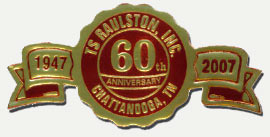 T.S. Raulston, Inc. Mechanical Contractors was founded and incorporated in 1947 by T.S. Raulston, Sr. as Raulston Plumbing Company.

Since 1947, the company has grown to be a full service mechanical contractor specializing in Plumbing, HVAC, Mechanical Piping, Process Piping, Medical Gas, Sheet Metal, and Refrigeration with a 24 Hour On-Call service department.

T.S. Raulston, Inc. prides itself on the quality of craftsmanship in all phases of construction.
Our plumbers, pipe fitters, and HVAC servicemen are well-trained and qualified in all areas of their associated trades.

Continuous training and schooling are one of the reasons T.S. Raulston, Inc. is knowledgeable in the newest and most recent changes in HVAC and Plumbing.

The 1998 completion of Blue Cross Blue Shield of Tennessee's historical renovation of the Miller Brothers building is a showcase of quality workmanship using state-of-the-art equipment and design building with local engineers and architects. With the use of a computerized estimating system, T.S. Raulston is active in the 'plan and specification' bid market as well as the design building market.

T.S. Raulston, Inc. is a certified Tennessee Drug Free workplace, required for all state and municipal work, also with a safety program with mandatory safety meeting on all projects.







Who We Are
Tommy Sisk
Vice President
423-698-8676 x 307





John Raulston - President
423-698-8676 x 309



Karen Feinaur - Bookkeeper
423-698-8676 x 301


Email Us